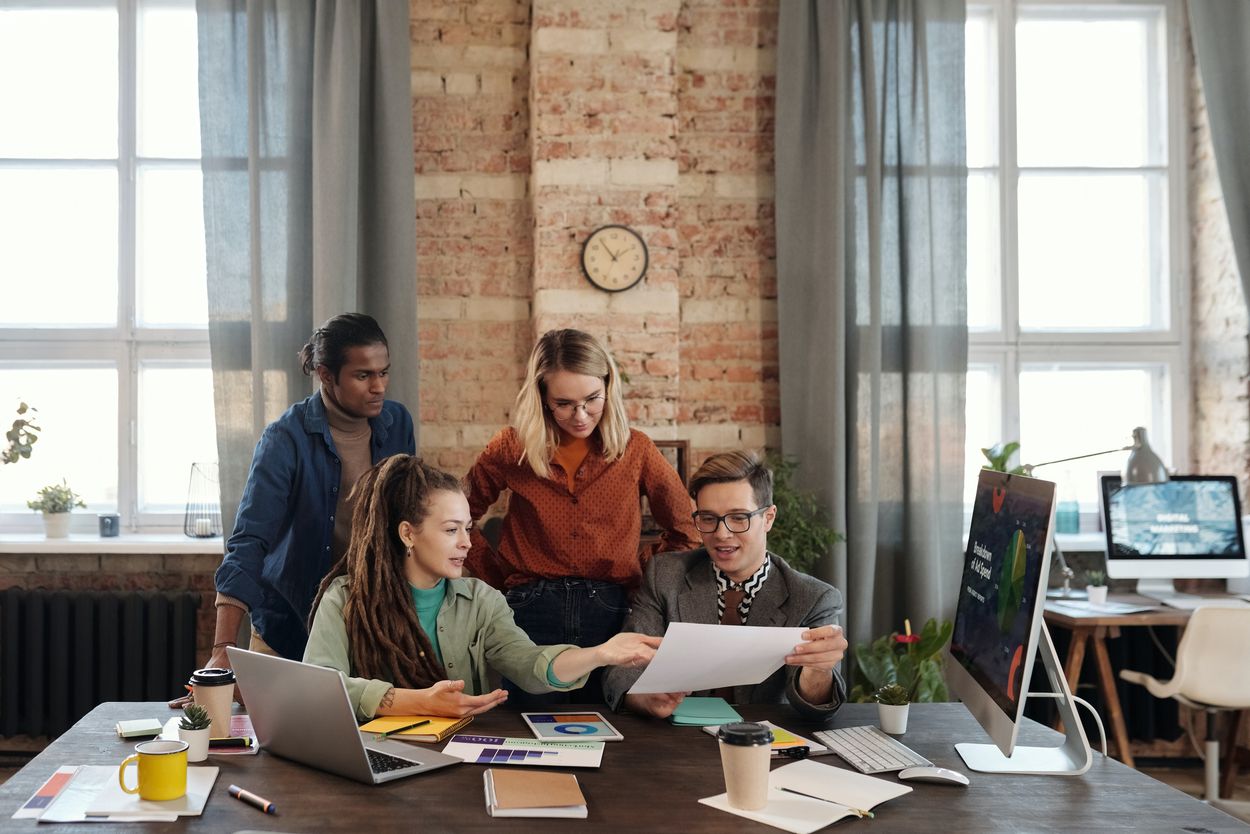 While offering technology consulting services, our ultimate goal remains to help you decide on and implement the best suitable IT practices that actually align with your business goals as well as the resource availability! The process is much more than just advice. Our technological consultants ensure the utmost in each aspect of the process including data-driven research practices, customer surveys, competitor evaluations, industry requirements, and availability of business resources till the last stage we could be an efficient part of!
Through effective planning and core implementation, our technological consultant experts leave no stones unturned to help you reach your potent technical advancement. Our IT consulting services include a diversified range from identifying, creating, and implementing technology to individually operating on all three aspects for a client.
Our proficient team of IT consultants as well as skilled developers collaborate to help you access the technical competence in this age of advancements. Having worked in numerous industries, our team  has proven experience in industries including Healthcare, Ed-Tech, Social Media & Entertainment, Mobility & Travel, E-commerce, Fintech, and many more.
How do IT Consulting Services assist your organization?
Reduces Time and Cost: Obviously, when the organization is aware of all the loopholes in the workflow and then leverages the technical advancement to cut them off; time and cost invested in the business operations automatically get reduced to a great extent!
Maximizes the potent of Technology: Organizations' ultimate goals should be to first utilize the full potential of the existing resources before moving on to scaling up! Thus, IT consulting firms help you research, record, and analyze what can be added to make the potential and reality align
Improving Business Processes: Technology Consulting Services improve business processes because of finessing all the stages involved. Through the elimination of everything that is operationally incompetent to the process, consultancy aims for maximization
Disposes Inefficiencies: Through ideal resource appropriation paved through the expertise of technology consultancy, you can dispose of all the inefficiencies in your workflow. This will assist the organization to reach its actual technical potential!
Optimum Resource Allocation: Getting yourself acquainted with the most appropriate technological advancements aligned with your organizational objectives, can help you optimally allocate the business resources to the stages that need them the most!

 
Our 5 Steps Approach to IT Consulting Services
Identifying
Our first and foremost step is to identify the needs of the businesses to know why they are seeking for technology consulting services. What are their goals, resources, and visions to ensure right delivery of services.
Scrouting
After getting introduced by their expectations and needs, we look for the myriad of approaches and ways through which we can meet their expectations.
Brainstorming
Being acquainted with the expectations of the businesses and the way of meeting those expectations now there is a need for intense Brainstorming on our ideas to deliver the right IT solution.
Developing
Being taken into consideration the resources, goals and needs now it's time to develop the product which is definitely going to surpass the expectations.
Delivering
After going through the above building blocks of success now it's time for contribution to the growth of businesses.
Our client centric model helps your business unlock new value
Why Choose us for Technology Consulting Services?
Frequently Asked Questions
1
What is a technology consultant?
Technology consultants assist clients in transforming the way they use advanced technologies. These transitions have been aimed at improving business processes, lowering costs, making the best use of technological opportunities, and so on.
2
What is the role of technical consultant?
The role of technology consultants is to communicate their expertise and knowledge to assist businesses in achieving their goals and solving problems. Their responsibilities could include implementing hardware and software frameworks, improving IT systems, and troubleshooting technical issues.
WORK WITH PRO TEAM
We are here to professionalize your project. Let's talk!